Quick info
Services:
Sundays
8:15 and 10 a.m.
Child care provided
Office hours:
Tuesday - Friday
9 am - noon
Location:
5705 Lacy Rd.
Fitchburg WI 53711
Phone:
608-273-1008
Calendar
Our events
Contact info
Names, e-mails
New members 2014 and 2015
We are always excited when new members become part of our community. They each add a new dimension to life at Memorial UCC.  Here are the people who have joined in 2014. You can meet people who joined in 2013 and 2012 and  2011 and 2010 and 2009 by clicking on the years. If you are interested in becoming a member, please contact This e-mail address is being protected from spambots. You need JavaScript enabled to view it
February 1, 2015
Sarah and Ryan Estrella have been married for 10 years. They  met at UW-Madison School of Social Work. They have lived in Fitchburg for 10 years and now they have three children.
Ryan works for Dane County Human Services as a Joining Forces for Families social worker (has held this position for about 10 years). He enjoys watching NFL (although maybe not this week's game), and loves cars he (sold cars for a stint in between college and grad school)
Sarah works for the Madison Metropolitan School District as a school social worker (12+years), currently at Jefferson Middle School. She loves to read and the outdoors, and the kids also want me to say that she likes to sleep.  (She won't deny it!)
Noah: 7, 1st grade at Leopold Elementary, loves the Packers, Legos, reading chapter books and playing soccer
Abby: 5, Kindergarten at Leopold Elementary, loves Frozen, Hello Kitty, sparkly things, coloring, swimming and dancing
Lucy: turns 2 on Feb. 4th, talks all the time, loves to color, Elmo, babies and basically loves to do anything Abby and Noah are doing
January 25, 2015
Rita and Roger Elver moved to Fitchburg from Platteville in July of 2014. They had lived in Platteville for about 40 years.

They have two married children - a daughter in Louisville, KY and a son in Milwaukee. And there are three wonderful grandchildren in Milwaukee.

Roger is a retired dentist. Rita retired as economic development director for the City of Platteville.

While in Platteville, they were members of the United Methodist Church there.

And their new next door neighbors are Ellen and Phil!

January 18, 2015
Sue Williams came to Madison in the early 1980s from Ann Arbor, Michigan. She has been with the Madison Police Department since 1988 and earlier this month was promoted to Assistant Chief of Police. She is the first female to hold this rank in the Madison Police Department.

Last summer, she celebrated her 20th anniversary with her life partner, Mary Celley. They live on a farm in Brooklyn and share their home with dogs, cats, horses and chickens.  There are also a few bees out there – Mary has been selling honey at the Dane County Farmers' Market at the Bee Charmer stand for a quarter of a century.

Sue was raised a Methodist but since moving to Wisconsin, she had not found a church she found comfortable with until she found Memorial.
January 11, 2015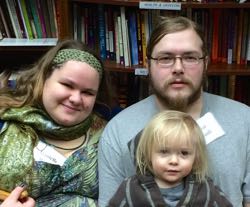 Tylor and Danielle Wendt are both the oldest of large families. Tylor's mother and four of his siblings live in Detroit and his father and two of his siblings live in the Upper Peninsula of Michigan.  Tylor is pursuing a career in culinary arts and is interested in video games.

While Danielle grew up in St. Louis, her parents and three of her five brothers now live in Monroe. The other two live here… one with Tylor and Danielle. She has a bachelors in English Lit from UW-Madison and hopes to pursue a graduate degree. In the meantime, she is working in business development at Conney Safety. 

Arthur is 2 years old… he likes Star Wars, David Bowie, trains, dinosaurs, cheese, and swimming.  

While both Tylor and Danielle grew up in, to varying degrees, in religious households, they have struggled to find a sense of community in Madison and have felt blessed by the acceptance and love of folks at Memorial UCC.

November 23, 2014
Tara and Doug Heimerl have been worshipping with us over the past year They live in Verona and have three kids – Henry, Sam and Sophia.

Tara grew up at Lake Edge UCC. Doug and Tara were married there. And the kids were baptized there. The youngest – Sophia – was baptized by our own Lisa Schoenwetter when she was serving there as the interim pastor. They live in Verona. Doug is a police officer in Fitchburg. Tara works for Social Security disability.

What with work and kids, there's not a lot of free time for Tara and Doug, but they enjoy running and weight lifting. And of course they enjoy watching their trio grow and doing things with them. Henry and Sam like Minecraft, Legos and anything physical. Sophia enjoys dolls, princesses or anything sparkly.
November 16, 2014
John and Cindy Rosch both enjoy cooking and reading and the outdoors.  John loves his vegetable garden and Cindy loves her quilting.
They have three sons who live in the Madison area.  And they have 8 grandkids.

Cindy is a long-time teacher in the DeForest Schools. John keeps the computers going so DOT keeps functioning.

They happy to be joining a church community that is so focused on social justice and being servants to those in need.
June 22, 2014

Nicholas and Elisabeth Dachniwskyj (Doc-new-ski ☺) have been looking to rejoin a spiritual community but really needed to find a church with beliefs that meshed with their own. They found kindness, openness, and warmth from everyone at Memorial and knew that it was the community that they had been searching for.
Nicholas grew up in Pewaukee, WI and was raised and confirmed in the Catholic Church. Elisabeth grew up in the Madison area and was (off and on) part of the Church of Christ on the north side of Madison. They both attended UW-Platteville, which is where they met.

They have been married for one year as of Monday (June 23) and currently live in Fitchburg. They have a dog, two guinea pigs and a fish.

Nicholas works as a mechanical engineer at Terso Solutions in Fitchburg. Elisabeth currently works part-time at Target Optical on Madison's west side, but is a full-time students at UW Platteville (again) pursuing her degree in Elementary Education.
Jim and Jan Hornik say that while their quality of life in recent years has been "off the charts" and felt a need to get more engaged in service. And that led them to Memorial. They said, "After testing the waters, we are excited and honored to join this tradition and community and make a commitment to serve."
Jim was born and raised in urban Milwaukee and thought about going into ministry or medicine, but instead pursued conscientious objection to military combat, the cause of civil rights, and the War on Poverty.  After graduating from UW-Milwaukee, he worked as a community organizer in Nashville and the Appalachian Mountains of East Tennessee. But four years later, he says "necessity and opportunity" led to 35 years in the design and construction industry, business consulting, and veterinary practice development.
His first marriage produced what he describes as "a family rich in cultural, racial, and personal diversity." And he continues: "By grace, I was given an incredible second chance with Jan to share love and an examined life, and not just with her, but with an accepting blended family and growing squad of grandchildren."

Jan, meanwhile, has lived in Wisconsin all her life - in Lancaster, Baraboo, Portage, and Madison – but says she was born with the travel gene in her DNA. She experienced that growing up with her family, did it with her children and now with Jim and his family. She taught English at Madison Area Technical College and echoes Jim when she says "one of the true blessings in my life has been meeting and marrying Jim."
Lisa and Justin Karnes visited Memorial several years ago for a Christmas service and received such a warm welcome even though we knew they were "those people" who just show up on holidays, Lisa says she has visited other churches, but looks forward to joining Memorial and becoming more involved.

Justin and Lisa are both originally from Iowa – Justin from Des Moines, Lisa from Dubuque - and met while attending the University of Iowa in Iowa City.
After spending a couple years in Florida, they moved to Madison in 2005.  Justin recently started working at American Girl in Middleton as a finance director.  Lisa works part-time at Wisconsin Public Television in Madison as a planned giving manager.
Maya is 6 ½ and will start first grade in the fall. She loves gymnastics, singing, ice skating, and swimming.  She is also a very proud big sister. Nolan turned two at the end of May and keeps everyone on their toes!  He likes playing outside – especially in sandboxes - and chasing after the family cats, Emmy and Diva. Maya will be participating in Vacation Bible School in August and has enjoyed learning and making friends at Sunday school. When Nolan either gets older or finally adjusts to the nursery room, Lisa says we'll see more of him and Justin on Sunday mornings.

And they say: "We're proud to be part of the Memorial UCC since everyone seems to be accepted there.  We want to raise our children to be open-minded and we feel like Memorial is a place where differences are respected and celebrated."

June 15, 2014
Marcia Manson and Tammy Freeman live in Oregon and have been partners for 13 years,

Tammy has been a mental health social worker for 25 years. She is originally from Chicago but grew up a good part of her life in Wisconsin Rapids. She has family in Wisconsin and in the Chicago area.

Marcia has been a law enforcement dispatcher for 29 years at the University Police Department, She was born and raised in Edgerton and her brother Henry and his wife Sharon continue to live there.

They have five cats and two dogs and are true animal lovers. They both enjoy outdoor activities like biking, hiking and taking their dogs to the various dog parks.
When football season rolls around they both enjoy Badger and Packer football and sometimes attend a game.


February 2, 2014
Carl Pfeiffer has transferred his membership to Memorial from Lake Edge UCC on the east side. For many years – from the mid-1950s to the late 1980s – Carl was a science teacher at Monona Grove High School. With his fellow teachers, he pioneered new ways of teaching science that integrated all the various scientific disciplines.

He and his wife, now deceased, had four children. He now lives in Stoughton and enjoys spending his summers at the family cabin near Eagle River, just a stone's throw from the UCC camp at Moon Beach.

He has a particular passion for exploring the meaning of faith in his life and in our world.

Heather and Jason Leiber have been married for almost 12 years. They grew up and met in Green Bay, and were married at the Presbyterian church there. Heather grew up Catholic, Jason grew up Protestant. Their two daughters are Amelia, who is 8 and in second grade, and Avery, who is 22 months old.

Jason works part time at Stoughton hospital as a respiratory therapist. The rest of the time, he is – in Heather's words – "a fantastic stay at home dad and cook." Heather works full time (plus) as a physician assistant at the UW in vascular surgery. She is a 2004 grad of UW.

And what about their spare time? What's that, asks Heather. They enjoy movies and eating out, Jason makes really good beer and is active at the gym. Heather says she occasionally gets to sleep.

They say they are excited to join a community to reaffirm their faith and introduce their children to this community.