Quick info
Services:
Sundays
8:15 and 10 a.m.
Child care provided
Office hours:
Tuesday - Friday
9 am - noon
Location:
5705 Lacy Rd.
Fitchburg WI 53711
View map
Phone:
608-273-1008
Calendar
Our events
Contact info
Names, e-mails
We are always excited when new members become part of our community. They each add a new dimension to life at Memorial UCC.  Here are the people who have joined in 2012. You can meet people who joined in 2012 and  2011 and 2010 and 2009 by clicking on the years. If you are interested in becoming a member, please contact This e-mail address is being protected from spambots. You need JavaScript enabled to view it
November 24, 2013


Jane Landretti grew up in Burlington, Iowa and went on to study at Cornell College, Drake law school and Uppsala University in Sweden.  She first visited Wisconsin to race the Birkebeiner ski race from Cable to Hayward. 

Some guy named Jason from Madison struck up a conversation at the start line.  Coincidentally, he appeared again in the chicken dumpling tent at the end of the race.  After a series of trips from Iowa getting to know Jason and Wisconsin better, Jane decided she liked them both.
Jane now works as an attorney for the Wisconsin DNR on water quality issues.  She and Jason love hanging out with their little guy Gus and competing in triathlons, cross country ski and cycling races.  She also finds it fun to try adventurous and healthful new recipes in the kitchen and to play her violin.


Sue and Don Smith recently moved to Verona from Mondovi, which is near Eau Claire. Their three kids had demanded that it was time to downsize and to be near one of them. 

Sue is a retired dietitian (her husband is now sole client). She enjoys gardening, and was very active in a large Mondovi garden club. She also enjoys cooking, reading and photography, and has taken up bridge again.

Don practiced farm animal vet medicine for 30 years, first in the Galena area, then in Mondovi, and he has the satisfaction of knowing that both practices are still alive and well. They also owned a livestock farm for a while. He is a history buff, and also dabbles in painting and print making.
They have had many interesting travel adventures, often involving bicycles and canoes, but they say that "now Father Time has relegated us to the old rocking chair." They have also embraced environmental and conservation causes, to which we devoted much time and effort.They come to us after being members of Eau Claire First Congregational UCC for 25 years, so they found Memorial to be a comfortable place for them with the warmth of this congregation.


Johanna Draper Carlson and KC Carlson moved to Fitchburg just over a year ago from Richmond, Virginia.
KC grew up in Janesville and lived in Madison for most of the 80s, and they're glad to get back to the Midwest after living in the Northeast and the South. They appreciate Madison's local food sources, outdoor activities, diverse culture, and plenty of things to do.

Johanna is a Quality Assurance Manager with Sony Creative Software in Middleton, and KC is a freelance writer, including a regular column for local company Westfield Comics. They met at a comic book convention and worked together at DC Comics before escaping New York City. Now, they both write for and run ComicsWorthReading.com as well as sharing a home with too many collections, including CDs, DVDs, and of course, comics. They're happy to find a welcoming church community that isn't afraid of questions.
June 9, 2013

Jen and Zac Ambord and baby Camden have recently been visiting with us and joined because they believe that with us they have found "a spiritual community and sense of belonging." They wrote of their experience with Memorial UCC: "we've felt very welcomed from the moment we came through the doors on our fist 'visit' to the Memorial UCC and knew from that time that it would be a great place for us to grow spiritually along with Camden."

Jen is an accountant with the VA. Zac is nursing assistant at Meriter Hospital and a student in nursing program at UW-Madison with only one more year to go to graduation! They enjoy a variety of activities that get them outdoors like hiking, camping and walking as well as time with friends and attending local events.

I think that we both personally felt that growing up we were going through the motions when it came time to go to Church, CCD, etc... but we have always felt a spiritual connection with God. It was hard to become involved in the Church growing up when so many of the things they did, did not fall in line with our own personal stances, beliefs, acceptances, and values. When growing up, and even up until recently, there wasn't a time when we looked forward to going to Church, now we both do!

April 14, 2013


Colette and Stan Corwin moved to Madison last September from Ashville, N.C. Just a couple of weeks ago, they moved into their new house near the Glenway Golf Course on Madison's West Side. For Colette, moving back to Wisconsin fulfilled a long-held wish. She looks forward to a more balanced life, renewing family contacts, making new friends, doing more reading and finding meaningful ways to be involved in the community. Environmental concerns are a priority for her. She's hoping to make good use of Madison's bike and hiking paths and become familiar with the city's bus service as a mode of transportation.

Stan retired from General Electric Co. in 1996, ending a career in Patent Law. Now he is an avid gardener and - after heart surgery at the end of this month – he looks forward to biking, playing golf and continuing to teach T'ai Chi Chih, I see myself as an environmentalist and look forward to the possibility of forming an Earth Team here at Memorial.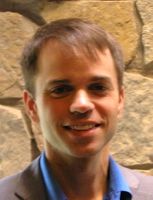 Chris Hollenback grew up in Green Bay, went to Vince Lombardi Middle School, and high school on Packerland Drive. After graduating from UW in 1998 where he majored in journalism and political science, his first job was working in PR for the Packers. So guess how he spends his Sunday afternoons and Monday evenings in the fall? In his younger days, he was also a member of the Madison Scouts Drum and Bugle Corps.

Eighteen years ago this weekend, he met Jamie, now his wife. She joined Memorial last year. Their children, Belle and John, have been great participants in our programs here, including Belle's debut in our musical last Sunday. Chris' first thriller novel titled Sleep When You're Dead is being published as we speak and will be out soon. He is an outreach specialist for the UW Center for Tobacco Research and Intervention Unit.

Chris credits Memorial with restoring his faith in God and the human spirit." He also thanks us for letting the rif-raff like me in. He's got lots of good company here.


Jeanne Prueher lives in Stoughton with her husband, Dan, to whom she has been married for 40+ years. They have two kids - Nick is in NYC, where he has made a name for himself as a comic, including appearances on Jimmy Kimmel and upcoming with Jimmy Fallon. Daughter Jessica lives with her husband, Mike, in Sun Prairie. They are the parents of Jeanne and Dan's two grand kids - Allie and Jacob. Spending time with those grandkids is one of Jeanne's favorite pastimes. She also has a standing date for knitting almost every Monday, loves to read and belongs to a book club. She enjoys weekend getaways and belongs to the Stoughton Lioness Club.

She says she was longing to start attending church after a five-year absence and found Memorial UCC in the internet. In her words,  "This congregation welcomed me from the moment I stepped inside.  I'm especially pleased about the possibilities for participating in a number of outreach programs."


Damon Smith is a native of the Finger Lakes Region of New York State, which is worth noting since his birthday was yesterday. He was active in Boy Scouts achieving the rank of Eagle Scout. He also was active in the Honeoye United Church of Christ.  He attended the State University of New York (SUNY) College at Geneseo where he received his bachelor's degree in biological sciences.  He then moved to North Carolina where he attended North Carolina State University, receiving his M.S. and Ph.D. degrees in Plant Pathology.  That's where he met his wife of the last six-and-a half years, Carrie.

Carrie Smith was born and raised at the Jersey Shore.  She received her bachelor's degree in biology from the University of Delaware and a Ph.D. in Genetics from North Carolina State University. 

After graduation, Carrie and Damon moved to Oklahoma where they both worked for Oklahoma State University for five years.  In September of 2012 Damon and Carrie moved to Madison and they have been attending Memorial for several months since then.
Damon is currently an assistant professor of plant pathology at The University of Wisconsin.  Damon has extension and research responsibilities for diseases of soybean, corn, wheat and alfalfa. Carrie works in the Environment, Health, and Safety Department at UW-Madison as a biosafety specialist, overseeing laboratory safety for work with infectious and recombinant materials.

Damon likes to hike, run, and bike. Carrie enjoys cooking, reading, zumba and hiking.  And they both like to spend time with each other … and their miniature dachshunds, Ruby and Ellie.

January 27, 2013
Jaren Bailey grew up in Muscoda along the Wisconsin River a bit west of Spring Green.  She has been an English teacher for 12 years. She started teaching in the Bronx, New York in September 2001, then she moved to Milwaukee and taught at a charter school for 4 years. Now she is teaching English at Verona Area High School.

She has been married for almost six years, and has two stepdaughters and two daughters. We see Rhya and Jonna around here with her.  I asked her about hobbies and she said, "I don't think English teachers and parents of small children have time for any!  I do enjoy reading, but lately don't get to read much beyond Brown Bear, Brown Bear and student essays!"